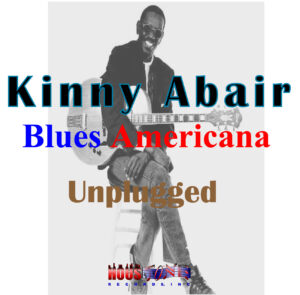 Kinny Abair (Herbert William McKinney)
a little known protégé of Sam "Lightin" Hopkins, 
son of Katie and James McKinney born October 16, 1938, in Refugio, Texas. Legend says, at the age of five Kinny made his own guitar and taught him self to play. At 12 and at the insistence of his parents he studied the Violin, but his love for guitar won out and his father bought him his first real guitar.
Kinny came out of the Houston, Texas, Duke/Peacock Records and The Club Matinee era mainly noted as the home of R & B and Blues greats during the fifties and sixties. His distinctive blues and jazz sound influenced by such greats as Eric Gayle, George Benson, Brown McGee, Billy Bizor, Johnny "Clyde" Copeland and Sam "Lightnin" Hopkins help him build a loyal following. Kinny's father was a life long friend of Houstonian Sam "Lightnin" Hopkins and "Lightnin" told Kinny he saw himself when he performed; he thanked him and hoped he would continue playing and keeping his music alive.
After a stint in the Navy, he attended The Berkley College of Music in Boston but his internal struggle with demons, force him to moved back to Texas. Kinny like many gifted, artist and musicians, found himself a victim of his own demons who over the years falling in out of drug addiction; but even in those trying times he always worked at perfecting his hollow body guitar jazz and folksy blues playing styles while entertaining audiences across the US and Europe.
His peace was was found in honing his guitar and vocal skills to become the truly gifted Jazz and Blues guitarist he was. His authentic vocal and guitar performance is on full display on the release of his last CD Blues Americana Unplugged, which showcases the natural raw purity of his voice & music.
On February 15, 2003, Kinny had a heart attack and joined Johnny Clyde Copeland, Muddy Waters, Miles Davis, Sam "Lightnin" Hopkins and other greats now performing in The Big Band upstairs.
Kinny Abair's Credit's; include performances at the, Annual Houston Jazz Festival, New Orleans Jazz & Blues Festival, Monterey Jazz Festival, International Jazz Festival, Kool Jazz Festival, Houston Blues Fest, Annual Blues Jam, TV mini-series Woman of Independent means starring Sally Fields, the movie Robo Cop, the soundtrack for The Strange Demise of Jim Crow, a critically acclaimed documentary about the end of segregation, the Alley Theatre's, Houston production of August Wilson's Seven Guitars and many other long forgotten performances.
Blues Americana Unplugged was recorded in 1999 and produced by Aubrey Dunham includes three songs written by "Lightin", Wig Song, Jump Jump Her, and Mr. Charley. The nine other truly special original Blues Americana songs on the CD were written by Kinny.
"Kinny Adair's CD Blues Americana Unplugged is Natural, Simplistic, Authentic and a Truly Wonderful American Musical Treasure to be Heard and Enjoys while Preserving Blues History for Years to Come".
Sirron Kyles GM
---