Description
| # | Title | Song | Duration | Artist |
| --- | --- | --- | --- | --- |
| 1 | Not Without My Permission | Your browser does not support the audio element. | 04:04 | Manthy |

ABOUT: 'Manthy' Singer-Musician-Songwritersician
Click Link Above To Stream & Listen On Your Preferred Platform 
Marianthi, better known as "Manthy" was born and brought up in Serres, Greece, and as a young girl she frequently sang along with popular songs she heard on the TV and radio.
She naturally gravitated toward the base guitar in high school band, where she began to refine her musical abilities while also developing her vocal range and stage presence at local music venues.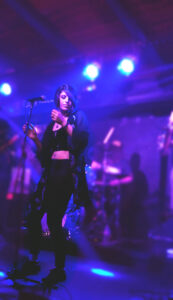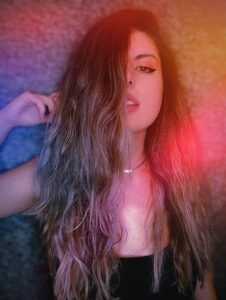 Her instructors quickly discovered her natural gift and talent as a vocalist and advised her to recommence her studies at the University of Music, Dance, and Fine Arts in Plovdiv, Bulgaria, where she earned a Bachelor degree and fine-tuned her skills and developed her distinctive singing style.
Her mesmerizing vocal melodies and lyrics draw inspiration from life's ups and downs, including love, heartbreak, fun, friendship, politics, nature and more. Manthy has spent the last 10 years working as a freelance singer, songwriter, and producer on projects with other artists while also composing and songwriting for her own projects.
Manthy is also the lead singer of the band "Instant Boner," based in Thessaloniki, Greece and helped produce and release a debut album named "High place Phenomenon." Which received critical acclaim and earned a devoted fan base that is still growing.
Certifications
Three Years in Music Theory, Harmony, Ear Training, Singing techniques, and Music Theory Coaching, at Music High School classes, Serres, Greece 2018
2023 Present Day
"Not Without My Permission," Collaboration With HousTone Records LLC, released across all streaming platforms worldwide and on https://www.houstonerecords.com February 2023
Our General Manager conducted an extensive search for a singer to collaborate with on the song "Not Without My Permission" because the lyrics have the potential to bring about global social change and awareness. He stated, "I reviewed many talented vocalists trying to make the decision on who would be the perfect singer to use and I decided on Manthy, because of the sultry tone of her voice and the creative stylization of how she delivers lyrics" says Marc Gordon A&R Manager at HousTone Records. This is just the first of many songs we intend to collaborate on with Manthy in the future.
Not Without My Permission
Song Lyrics by Sirron Vann Kyles, Music Arrangement Mark Towns, (July 2021)
Every woman and man has the right
To stand up Against any kind of injustice and more
Whether it's at their home or at work,
When we say "not without my permission,"
The message is clear
We ate dinner together, had a great time, but
That did not give you the right, to sexually assault me
When we say "not without my permission,"
The message is clear
You walked me home at night cause it was getting late,
But that did not give you the right
that did not give you the right to sexually assault me
So, we went out on a date, but that did not give you the right;
To sexually assault me
Oh, Don't force yourself upon me, instead you can just leave me
Just "not without my permission", "not without my permission"
We ate dinner together had a great time, but
That did not give you the right to sexually assault me
I admired your style and said you looked good,
But that did not give you the right
that did not give you the right to assault me
No you can't touch my ass, my face, my breasts or any part of my body
"Not without my permission,"
to sexually assault me
We ate dinner together had a great time, but
That did not give you the right to sexually assault me
When we say "not without my permission,"
The message is clear
I admired your style and said you looked good, (Oh, you can leave)
But that did not give you the right, to assault me
If you don't agree
When we say "not without my permission," oh oh
When we say "not without my permission," oh oh
If you don't agree you can leave (if you don't agree you can leave)
If you don't agree you can leave (oh, you can leave)
O-oh