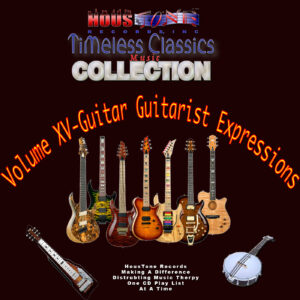 By: Jake Miller
April 1, 2019
Houston, TX – This new volume of music therapy from The Timeless Classics Music Collection, "Distributing Music Therapy One CD At A Time "is Guitar Guitarist Expressions is to be enjoyed by all fans of great music created with plucked or strummed-stringed instruments, mainly guitars. Listening to an entire Timeless Classics, CD produces the same curative effect as other ongoing health therapy does. Music is just like any other form of medication.
Although the majority of the 100 selections are highlighting "Guitar and Guitarist," there are many others that feature other finger-pulled instruments creating special music with blends of memorable complementing vocals and lyrics for all to enjoy with selections from every era and all genres from HousTone Records.
You have to pay homage to Jimi Hendrix when releasing any compilations focusing on the guitarist and Volume XV does so. Although Hendrix only performs one song, his influence is felt all through out the playlist, with others playing tributes to his music, while the focus remains on music therapy.
"Pay attention to the multitude of skills the musicians that play this legendary instrument, the guitar, and how they apply those skills to the music they produce. If you are not already a fan of the guitar, listen to the Guitar Guitarist Expressions CD and you will forever be a fan of the guitar," Editor, Waiting Room USA Magazine.
Plucked strings are played by strumming with one hand while choosing notes on the fretboard with the other hand and are similar to the guitar. Timeless Classics Volume XV Guitar Guitarist Expressions mainly features guitars but does include artists performing using other string instruments from around the world. See the list below:
Following is a very basic list of plucked or strummed-stringed instruments that are relatives of the guitar:
Balalaika, violin, lyre, cello, viola, double bass, bass guitar, mandolin, banjo, harp, lute, zither, ukulele, sanshin, koto kit, mood swinger, setar, shamisen, sitar, surbahar and many others from countries around the world. For a complete list of plucked or strummed instruments from around the world, visit: https://en.wikipedia.org/wiki/List_of_string_instruments.
Timeless Classics Volume XV Guitar Guitarist Expressions new CD playlist is available for downloads at www.HousToneRecords.com.
HousTone Records Making A Difference By Promoting And Distributing Music Therapy One CD At A Time.
Timeless Classics Music Collection focuses on re-introducing artists' earlier music along with recent select releases of the artist cover songs that have sold millions; and stands to reason that the Timeless Classics Collection, and songs from every genre spanning many decades, can be used as a tool to stimulate or tap into people with different types of dementia, and remember musical memories.
This also allows HR to market unknown up-and-coming artists in a comfortable format to be judged by fans for the talent they have, based on the music the listeners already know. From these selections, we choose songs that match the theme of the release and then expose this music to the fans that want it. Registered members however can hear samples of each song from the entire catalog.
Contact
HousTone Records
PO Box 8305
Houston, TX 77288
Phone: 713-866-4009, 281-605-9299
E-Mail: info@HousToneRecords.com
Website: www.HousToneRecords.com
Facebook: https://www.facebook.com/Houstone-Records-285802868106305/
---