Timeless Classics Volume XI-Tchiya Amet-The Best (Sultry Women Series)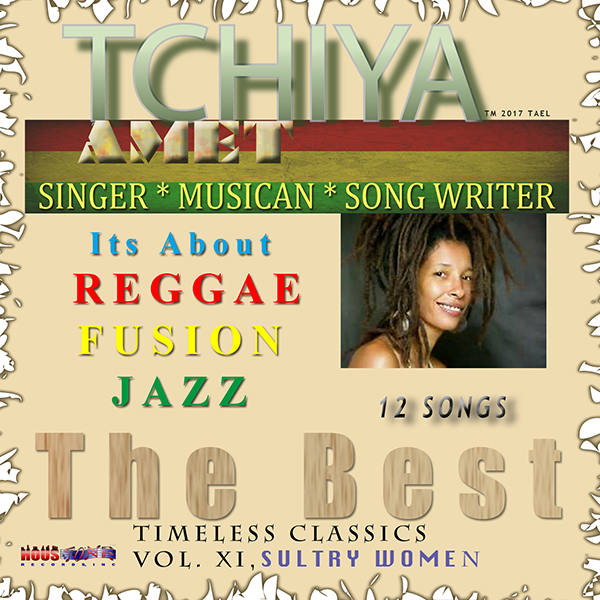 Timeless Classics Volume XI – Tchiya Amet - The Best (Sultry Women Series) Release Announcement
By: Joc Vann
May 15, 2017
Houston, TX – It's hard to put Tchiya's music and her into one category but if you enjoy listening to great music with an incredible island feeling, then you will surely enjoy The Best, Tchiya Amet's new CD release from HousTone Records. This CD is a collection of music spanning Tchiya's 20 year career and the title says it all – it is definitely "The Best." The CD has a jazzy, Latin, world native vibe, and is definitely something special from the Timeless Classics Collection Volume XI (Sultry Women Series).
"Her music is rooted in roots, reggae, afro-Brazilian, afro-Cuban and Native American traditional music, a blend of Indigenous and contemporary world rhythms I call Reggae Fusion Jazz," says Sirron Kyles, General Manager at HousTone Records.
Tchiya is a student of several languages, "I can order dinner and get around town in many places!" she jokes. Many different languages are featured in songs on this CD. "Tchiya is often referred to as the Island's Roberta Flack because of her soft vocal style, but with similarities to Sade and Esperanza Spalding, and Sun Ra because of Tchiya's fondness for unique instrumental arrangements; a mild Erykah Badu and of course Bob Marley because of her oneness messages, which are always featured in her song lyrics, her jazzy reggae live shows are very enjoyable," says Marc Gordon, Entertainment
Musician, Singer, Songwriter, poet and philosopher, Tchiya Amet was born on August 5th, and grew up on the South Side of Chicago, IL. Her ancestral heritage resembles a patchwork quilt and she is proud of being of African and Native American descent, which includes Cherokee and Blackfoot, and it may be one of the reasons why she chose to become Tchiya Amet El Maat, Natural Wellness Therapist, Specializing in Kemetic Healing and Egyptian Yoga, her caregiver persona.
The Best, as do other CDs in the Timeless Classics Collection, focuses on re-introducing artists' earlier music to today's music fans. We hope people enjoy, appreciate and feel inspired to add Tchiya's, and other artists' music in this collection, to their playlists. Tchiya has released six albums including her Wellness CD collection. This CD was inspired by the ever-growing enthusiasm for all types of reggae and world music performed by women from around the world, and it focuses on Reggae Fusion Jazz sounds.
"It's a whole new approach for music lovers to find new music they would like but didn't know existed, or forgot about," says HousTone Records' General Manager, Sirron Kyles. He continued, "Today music lovers have a variety of options to find and enjoy music. This CD allows audiences to connect or reconnect with artists and music they may choose to add to their playlists, just by searching for artists and songs on any of the volumes that comprise the Timeless Classics Collection."

About HousTone Records
One of the key elements in working with any artist at HousTone Records is the artist must agree to record/provide two well known cover songs per each CD released. This allows HR to market unknown up-and-coming artists in a comfortable format to be judged by fans for the talent they have, based on the music the listeners already know. From these selections, we choose songs that match the theme of the release and then expose this music to the fans that want it.
HousTone Records: Making a difference by Marketing, Recording and Distributing One CD at a Time!
Contact
To learn more, please contact:
PO Box 8305
Houston, TX 77288
Phone: 713-866-4006 and 281-605-9299
Email: info@HousToneRecords.com
www.HousToneRecords.com
Facebook: https://www.facebook.com/Houstone-Records-285802868106305/