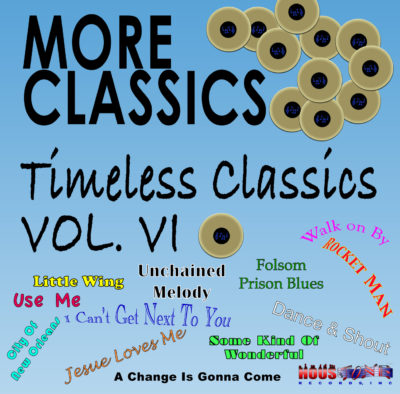 Timeless Classics Volume VI More Classics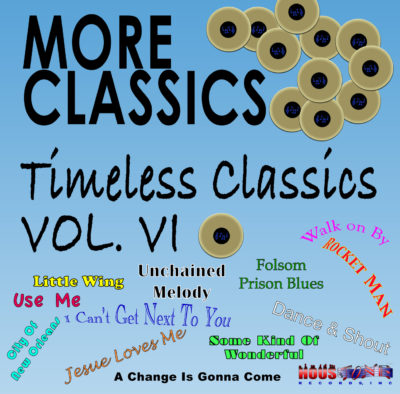 Timeless Classics Volume VI – More Classics Release Announcement
By: Joc Vann
September 1, 2015
Houston, TX – Timeless Classics Volume VI – More Classics is another new CD brought to you by HousTone Records. For more than 35 years HousTone Records has released a variety of albums of rock, jazz, classical, blues, country, new age, reggae, world beat and rhythm & blues music. Timeless Classics Volume VI – More Classics continues that tradition.
Timeless Classics Volume IV – More Classics features Al Green, The Wood Brothers, Sanchez, Widespread Panic, Annie Haslam, Isaac Hayes, Reba McEntire, Herbie Hancock, Rare Earth, Lonesome Whistle, Joss Stone, The Grateful Dead, Whitney Houston, Chaka Khan & Kenny Olson, Dorothy Fields, Jason Mraz, Herbie Hancock (Feat. James Morrison), all performing covers of many of your all time favorites.
More Classics, as are all volumes of the Timeless Classics Collection, is about songs you know and have been enjoyed by millions – a little bit of everything, such as Little Wing, Dance & Shout, A Change Is Gonna Come, Some Kind Of Wonderful, Wishin' On A Star, City Of New Orleans, I Know; I'm Losing You, Jesus Loves Me, The Way You Look Tonight, Dancing in the Street, Sunday Kind Of Love, Rocket Man, I Can't Get Next To You, Folsom Prison Blues, Ring of Fire, Orange Blossom Special, I Walk The Line Medley, Walk On By, Unchained Melody and Use Me.
Timeless Classics Volume VI – More Classics is another great CD to add to your collection.
About HousTone Records
One of the key elements in working with any artist at HousTone Records is the artist must agree to record/provide two well known cover songs per each CD released. This allows HR to market unknown up-and-coming artists in a comfortable format to be judged by fans for the talent they have, based on the music the listeners already know. From these selections, we choose songs that match the theme of the release and include them as part of our marketing plan.
Submittal Guidelines
HousTone Records does not accept unsolicited material. Artists must request to submit three songs for review. One of the three songs must be a well known, million selling cover song. Artists may only submit a request by e-mail but a HARD COPY PROMO PACKAGE must be sent only by regular mail. Once we review an artist's material we will make our decision and notify artist by e-mail.
HousTone Records: Making a difference by Marketing, Recording and Distributing One CD at a Time!
Contact
To learn more, please contact:
PO Box 8305
Houston, TX 77288
Phone: 713-866-4006 and 281-605-9299
Email: info@HousToneRecords.com
www.HousToneRecords.com
Facebook: https://www.facebook.com/Houstone-Records-285802868106305/